February 18, 2014
June 6, 2013
April 30, 2013
March 11, 2013
February 11, 2013
September 5, 2012
August 6, 2012
July 1, 2012
March 12, 2012
January 22, 2012
September 5, 2011
August 16, 2011
July 27, 2011
July 15, 2011
July 5, 2011
June 15, 2011
June 6, 2011
May 2, 2011
April 9, 2011
April 9, 2011
March 25, 2011
February 28, 2011
February 16, 2011
January 30, 2011
December 31, 2010
November 17, 2010
October 19, 2010
October 5, 2010
September 7, 2010
August 9, 2010
July 14, 2010
July 8, 2010
June 28, 2010
June 22, 2010
June 7, 2010
May 18, 2010
May 6, 2010
April 26, 2010
April 9, 2010
March 21, 2010
March 10, 2010
February 23, 2010
February 17, 2010
January 26, 2010
January 3, 2010
December 23, 2009
December 10, 2009
November 13, 2009
October 28, 2009
October 12, 2009
September 30, 2009
September 22, 2009
September 14, 2009
September 8, 2009
September 1, 2009
August 26, 2009
August 18, 2009
August 10, 2009
July 28, 2009
July 21, 2009
July 14, 2009
July 9, 2009
July 6, 2009
June 30, 2009
June 22, 2009
June 15, 2009
June 8, 2009
May 31, 2009
May 21, 2009




European Nations Cup

Hola All

Greetings from Madrid, Spain. I am currently sitting in my hotel room near the Madrid airport, waiting to start my long, long trip back to Australia. I thought while I had sometime I would update you all on my last 10 days in Spain.

The weekend of April 17, I traveled from Miami over to Madrid. Actually I think I was really lucky that my flight was direct to Spain and not traveling through any other European country. What chaos the volcano in Iceland caused to all flights across Europe over the past week. Anyway, I got to Spain early to spend the weekend in Madrid. The only other time I had been to Spain was 15 years ago when I was at European Qualifying School. So obviously back then, my mind wasn't on taking in the sites but starting my golf career by trying to find a place to play. So this trip I intended on mixing some golf with some fun touring around. I spent the weekend taking in the sites of Madrid, trying to live life the Spanish way! By that I mean, eating lunch at 3pm, having dinner at 11pm and going to bed at 3am!! Ohhhh I was successful but I don't think I could live my life like that all the time. I need more sleep than that! So I saw the sights, ate and drank some great Spanish food and wine, and one of the big highlights was getting to go to a Real Madrid football (soccer in the US) game. It was the first time I had been to a professional football game, and being the sports nut that I am, it was an awesome experience. The atmosphere was great, and Real won, so that was fun!

On Monday, it was onto Denia where the tournament was being played. I thought for sure it would be hard for the tournament to start on time with all the flight cancellations but amazingly all the teams managed to show up. It took a huge effort from most of the girls to get there. Some of them drove, took trains, and ferries. One girl from Finland drove 4000kms to get there! My partner, Karen Lunn, was in the middle of flying from Australia when the ground hold was first started. She had to spend two days in Abu Dhabi and then, instead of flying to London, bought another ticket to Madrid. It really showed the passion everyone had for just wanting to play and compete.

The tournament started without a hitch and 18 countries teed off on Thursday morning. Karen and I got off to a sluggish start on Thursday but managed to stay close shooting 69. We continued to gain momentum throughout the week, starting Sunday's round just 2 shots behind. We got off to a fast start on Sunday, birdieing the first 4 holes. Things slowed down for us a bit from there but we managed to finish with a 66 and a total of 21 under. We had lots of chances to finish lower but the putts just didn't drop. Even still we felt pretty confident with only Sweden with a chance to tie us. They had to eagle the par 5 18th to force a playoff. If any team was capable of doing it, it was the team of Sophie Gustafson and Anna Norquist. They played the last hole to perfection, with Anna making about an 8 foot putt for eagle. So off to a playoff. We managed to tie the Swedes the first 2 playoff holes with a par and a birdie. Then on the 3rd playoff hole, after Sweden comfortably two putted for birdie, I had about a 18 footer to force a 4th hole. I can tell you I don't think I have ever stroked a better putt under pressure the way I struck that putt. Six inches out it was in for all money, but even as I sit here now, I still don't know how it lipped out!! Gut wrenching! It just wasn't meant to be I guess...but sometimes you wonder why. Karen and I had a really great, fun week. It would have been icing on the cake to have won. I haven't played in such a laid back tournament for a very long time and I really enjoyed it!

The whole week was a great week! The tournament staff did so much to make me feel welcome. Iñigo Aramburu and Alicia Garrido, the tournament organizers (pictured below) went above and beyond to make my trip a very memorable one! I can't thank them enough!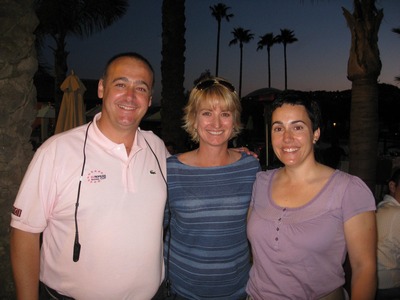 So now I am off to Australia for a quick trip. I am home for a week....a very busy week. My two nieces will be Christened while I am home and also I will be heading to Brisbane, where the Governor General will present me with my Order of Australia Medal. It will be a short trip home but I am looking forward to a good one.
My next event is in Mobile, AL so I will touch base with you all then.
Take care,
Karrie