February 18, 2014
June 6, 2013
April 30, 2013
March 11, 2013
February 11, 2013
September 5, 2012
August 6, 2012
July 1, 2012
March 12, 2012
January 22, 2012
September 5, 2011
August 16, 2011
July 27, 2011
July 15, 2011
July 5, 2011
June 15, 2011
June 6, 2011
May 2, 2011
April 9, 2011
April 9, 2011
March 25, 2011
February 28, 2011
February 16, 2011
January 30, 2011
December 31, 2010
November 17, 2010
October 19, 2010
October 5, 2010
September 7, 2010
August 9, 2010
July 14, 2010
July 8, 2010
June 28, 2010
June 22, 2010
June 7, 2010
May 18, 2010
May 6, 2010
April 26, 2010
April 9, 2010
March 21, 2010
March 10, 2010
February 23, 2010
February 17, 2010
January 26, 2010
January 3, 2010
December 23, 2009
December 10, 2009
November 13, 2009
October 28, 2009
October 12, 2009
September 30, 2009
September 22, 2009
September 14, 2009
September 8, 2009
September 1, 2009
August 26, 2009
August 18, 2009
August 10, 2009
July 28, 2009
July 21, 2009
July 14, 2009
July 9, 2009
July 6, 2009
June 30, 2009
June 22, 2009
June 15, 2009
June 8, 2009
May 31, 2009
May 21, 2009




What a week...Exhausted!!


Hi Everyone,

Well I'm sitting on a plane again!! After a marathon week at the US Open last week and finishing on Monday morning, I managed to get home around midnight on Monday night!! Three days at home, unpacking, laundry and packing again puts me on a plane to Edinburgh, Scotland.

I'm off to Europe for the Evian Masters and the British Open. I decided early in the year to head to Scotland the weekend before Evian to get a practice round in at Carnoustie. My caddy, Mikey is from Edinburgh and it was his idea to try and get an early round in to see what we are in for. I'm looking forward to it, although I wish I was Dorothy and could click my heels to get there. Oh well....a red eye and a few pints in the pub Saturday afternoon watching the men's British should do the trick! ;) I will be all set for my practice round on Sunday! Lol!

I'm looking forward to the next couple of weeks as I always do every year. Evian is such a beautiful town and area...someday I will have to go there when I'm not playing golf I think. I always look forward to the British, it's been a tournament I've played well in right from the start of my career and in the last 10 years or so (does that age me when I say that!?) We have started to play on the great links courses that I grew up watching the men play on. This year will definitely be a challenge at Carnoustie but I'm up for it and looking forward to the challenge.

So back to the US Open....not only did we have the challenges of the longest course in US Open history, the altitude, and the difficulty of the large sloping greens but we had to deal with multiple weather delays right from Thursday till Sunday. I didn't think my body would ever get used to waking up at 4.30 but my Monday morning when I only had to get up at 5.15, I woke at 4.30 cause....I guess I felt like it!! Anyway, I was pretty happy with my week, it was my best result in quite a few years so that was good. I did have my chances but never quite maintained that positive momentum throughout and entire round. For the week, I was 6 under on the front 9 and 8 over on the back. My ballstriking was pretty solid for the week but I just couldn't get a handle for the speed of the greens. I think I read them ok but never matched the speed up. All in all though, I put myself in contention but didn't quite get it done this time. Can't ask for more than a chance.

I had a great week with the 3 amateur girls, Jessica Speechley, Ashley Ona and Bre Elliott, that stayed with me. They are great girls and I could tell that they enjoyed the experience of the whole week. With them staying with me, I love getting to know them a bit better and see their excitement and how they take everything in. They are the future of Australian women's golf and I wish for all of them to be able to play, many times, on the biggest stage in women's golf.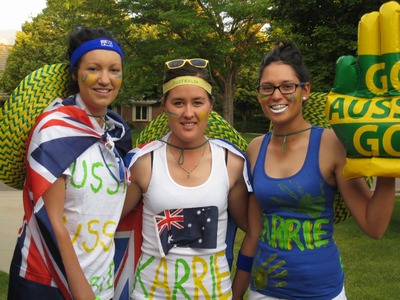 Well that's it for now. I will sit back in my airplane seat and try and figure out how Dorothy did it! ;)

Karrie