February 18, 2014
June 6, 2013
April 30, 2013
March 11, 2013
February 11, 2013
September 5, 2012
August 6, 2012
July 1, 2012
March 12, 2012
January 22, 2012
September 5, 2011
August 16, 2011
July 27, 2011
July 15, 2011
July 5, 2011
June 15, 2011
June 6, 2011
May 2, 2011
April 9, 2011
April 9, 2011
March 25, 2011
February 28, 2011
February 16, 2011
January 30, 2011
December 31, 2010
November 17, 2010
October 19, 2010
October 5, 2010
September 7, 2010
August 9, 2010
July 14, 2010
July 8, 2010
June 28, 2010
June 22, 2010
June 7, 2010
May 18, 2010
May 6, 2010
April 26, 2010
April 9, 2010
March 21, 2010
March 10, 2010
February 23, 2010
February 17, 2010
January 26, 2010
January 3, 2010
December 23, 2009
December 10, 2009
November 13, 2009
October 28, 2009
October 12, 2009
September 30, 2009
September 22, 2009
September 14, 2009
September 8, 2009
September 1, 2009
August 26, 2009
August 18, 2009
August 10, 2009
July 28, 2009
July 21, 2009
July 14, 2009
July 9, 2009
July 6, 2009
June 30, 2009
June 22, 2009
June 15, 2009
June 8, 2009
May 31, 2009
May 21, 2009




Thailand - 1st Tourney for 2010

Hello everyone,

Well it's a start to another LPGA season, my 15th in fact! I'm going into my 16th year as a professional and I have to say sometimes it feels like it has been that long and sometimes it feels like just yesterday that I set off on this incredible adventure!

I'm looking forward to finally getting started. I love my off season but a big chunk of it usually consists of preparing hard for the upcoming season and eventually I get sick of the working out and practice. I'm ready to tee it up!

Before I flew up to Thailand on Monday, I was in North Queensland spending time with my family and catching up with friends. Of course there was some practice which at times was hard because it's the traditional wet season at home, so finding a few hours out of the rain was difficult some days. I managed to do some work with both my coaches. I traveled down to Brisbane for one full day with Ian and I did quite a few days with Kelvin. My work with Kelvin was made a bit easier this time round as one of the people he teaches made a sort of side-car for a golf cart that Kelvin could ride in down the fairways as I played some holes.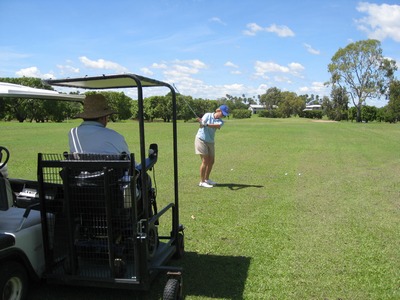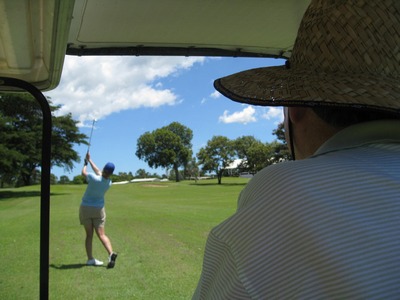 So with a really enjoying off season and all the hard work under my belt, I made the trip up to Pataya, Thailand for the first event of the year. My practice and pro am rounds have gone pretty well and I'm feeling good. I'm sure on the first tee tomorrow there will be a few butterflies, as is normal for me at the first tournament of the year. Mainly the nerves, I think, are just because it's been a few months since I have officially had to count all the shots and after all the practice where it didn't really mean anything, now it does.
My goal for the first couple of weeks is to ease my way into a rhythm on the course. Obviously I want a chance to win but my goal is to not put too much pressure on myself and just find a groove.
Ok well that's it for my first tournament blog of the year. Thanks for checking in. I hope I give you all plenty to cheer about!
Karrie